I have repeated to a few people that I thought the Supernatural season finale was very reminiscent of the final episode of an anime. And you may recall that I made a strong case a while back for
Castiel having Anime Eyes.
Well, I have refined my theories, and I would like to state as convincingly as I can today for the record: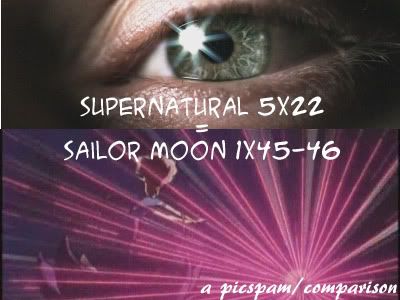 That's right, they are the SAME THING. The order is a little mucked around with, but if you would venture with me behind the cut, I will attempt to explain. Shall we?
( This makes that cracky fusion fic I wrote make SO MUCH MORE SENSE! )
Sailor Moon screencaps courtesy of The Oracle.
Supernatural screencaps courtesy of Home of the Nutty.
Much obliged to both!